Carry On Coplus Active August
Continuing our theme for August with more stories from our people about getting active. We all know more active lifestyles are good for us but it's not always easy to know where to start or to keep up the motivation once you do. By sharing our stories we are hoping to inspire and encourage others to be active with Coplus this August.
Noah's Story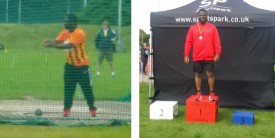 Noah Avowlanu is an Assistant Accountant at Coplus. When he's not crunching numbers and wielding a spreadsheet Noah is competing in athletics. He's spent two days this month at the Norfolk County Championships where he's celebrated success once again.
"I'm proud to say that I am an Olympic Champion for 2021 – oops I meant County Champion for 2021! The Norfolk County Championships were held over two days this month.
"On Day 1, 1st August, I came first in 100m, Shot Put and Long Jump, and 2nd place in Javelin.
"Day 2 was on 29th August and I'm pleased to say I won gold, retaining my 200m title and with a new personal best and was also first placed in the Hammer Throw.
"I have also been competing for my athletics club in the Southern Athletics League and the Eastern Athletics League."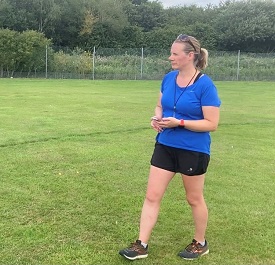 Hilary Ball is Marketing Manager. She's a keen runner who recently decided to get more involved in helping others become as addicted to running as she is!  Hilary tells us what a LiRF is and what she's done to become one.
"I've been running regularly for the last four years since joining a local running club. Before that I'd had a few stop start attempts at running but I could never sustain it. I didn't realise that running was something you could do with other people. I thought it was just a case of pounding the pavements yourself and grimacing.
"The running club totally changed my view on this. Fast or slow everyone is welcome, there are some excellent competitive runners, but also a lot of other people, like me, who run at the speed of chat – as my friend calls it.
"The club needs people who are able to lead runs out on the road and help with coaching sessions, and to do that you need to be a LiRF – Leader in Running Fitness. This is a UK Athletics qualification that gives a foundation to coaching, ensuring a safe, inclusive approach.
"I decided to do the LiRF course so I could help the club and share the support and motivation that I received. It has taken a bit of organising; online studying, a zoom course and finally to complete the course I had to submit two videos of me applying what I'd learnt when coaching a small group.
"However I've completed it all, videos too, and everyone was still smiling at the end. Now all I need is to remember my running routes and not get everyone lost!"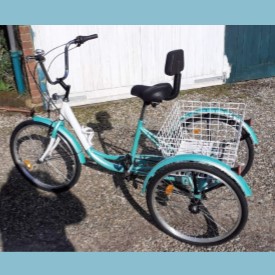 Janet Poynter is a Claims Agent, her desire to get biking again after more than 40 years has seen her opt for three wheels rather than two! This is Janet's Active August story.
"After 40+ years I am attempting to ride a bike again so I have brought a trike as me on two wheels would not prove a good idea!
"At first it was a disaster, as soon as I got on the trike I shook like mad. I thought I was going to fall off and was especially nervous on the road. I've started to gain more confidence now and have enjoyed a few trips with my husband Gary who has been a cyclist all of his life.
"We have a quiet route through Norwich which takes us off roads and over to Chaplefield Park, where we do a few laps.
"I'm enjoying the new sense of freedom but I would like to venture further on traffic free routes. The problem now is how to find a cycle carrier for the car which will take my trike and my husband's bike. Does such a thing exist? I do hope we'll find a solution."
Find out what else we get up to in August as the month continues!